I am home sick today a
nd missed
Fortunately, church isn't just
the Sunday worship service.
It's the people who believe in Jesus,
We do Dinner with Friends
Just sign up, and they'll place you in a group of eight
so you can get to know the others.
Bart and Judy, 2011
We already knew our hosts Bart and Judy quite well.
They have been there for us over and over.
They have been the heart and hands of Jesus
to our family
for almost two and a half years.
I also love to visit their cozy and beautiful home,
filled with welcoming touches
of hospitality and inspiration.
I'm sure you'll notice the light and shadow,
in one form or another, all the way through.
The serving table before the food arrived...
The Greatest of These is Love
A table illuminated with candles and sunlight
I can never resist watching a flame
create impromptu sculptures
of melting wax.
I am odd like that, I know.
Each of us brought food.
Our contribution: hot bread and green salad.

My vintage butter cutter,
inherited from my late mother-in-law,
and tucked in my food bag,
was just right for the slicing job.

We also had gourmet cheese and crackers,
heritage tomato salad,
a chicken with white wine sauce.

And for dessert...
I'll post the recipe for Judy's scrumptious
Mississippi pound cake soon,
but for now you can drool over it here
with strawberries and whipped cream.
I love the blue and white china.
(You can find the recipes here:
Simply Southern Pound Cake and Divine Chicken)
The beauty continued outside
on the back patio and beyond...
A big bush of pink azaleas around the trees
I'm not sure what this is,
but I had to wait for the wind to stop blowing
so I could get this picture!
'
Waterbird wading in Lake Bell
A perfect end to the evening,
eight of us gathering around the fire pit by the lake
to answer random "getting to know you"
questions on little strips of paper.
That was the point, you know!
One last welcoming touch from Judy's home.
I am inspired to think about how I can add more of
this kind of warmth and coziness
and hospitality to my own hectic home.

But I remember:
the home doesn't have to be fancy,
and the food doesn't have to be gourmet,
and the guests don't have to be close friends already,
but the heart has to be open and welcoming.
That is where beauty and love live.
That is the essence of hospitality.
www.VirginiaKnowles.blogspot.com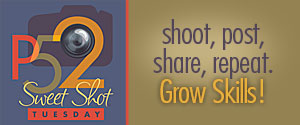 The embroidered pillow photo will be my submission to the
Sweet Shot Tuesday
photo project Tuesday morning.
Y
ou can see my current photo collection here:
Sweet Shot 2013
.
I will also link to the following blogs this week...