At church, we noticed a few people sitting with Calvin, whom I mentioned a month ago in my post

Weekend Gratitude is Getting to Be a Habit

. I had just discovered that his

father, Craig Garriott, pastors a multi-cultural justice-minded PCA church,

Faith Christian Fellowship

in Baltimore where by divine coincidence, my childhood friend Anne is a member, along with her husband, kids, and parents. Anne had invited me to Timonium Presbyterian Church when we were in 8th grade, and her parents picked me up every week for two years until my family moved to Virginia. I am eternally grateful for them. Read more about that

here.

As it turns out, the folks sitting with Calvin were his own parents and his youngest sister. I'm really grateful that I had a chance to chat with them. His mother, Maria Garriott, mentioned that she is just publishing a new edition of her book

One Thousand Resurrections: An Urban Spiritual Journey

about their experience in inner-city ministry. I'm looking forward to reading it soon! I know it will show me how one family and church has fleshed out what Tim Keller writes.
I found it interesting to note that in such a planned community, the very edge of the lake is set aside for naturally growing plants. These sun-bursty flowers and waving grasses might be considered weeds to some!
Johann Wolfgang von Goethe

wrote, "A man should hear a little music, read a little poetry, and see a fine picture every day of his life, in order that worldly cares may not obliterate the sense of the beautiful which God has implanted in the human soul." (More of these quotes and Charlotte Mason inspiration here:

Vintage Quotes and Cozy Thoughts from Lessons at Blackberry Inn

.)
Join the gratitude community...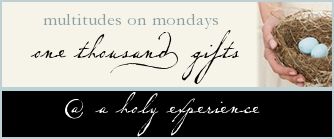 My own gratitude lists are not numbered. I tell a story with gratitude infused.